Our Benefactor, Alvah N. Belding
Just who was Alvah N. Belding?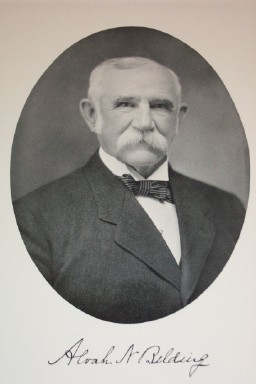 Alvah N. Belding

:
was the youngest of the four brothers was born March 27, 1838.  He worked on a farm at home and for neighboring farmers until he was 16, one time for 12½ cents per day.  He then went on the road selling jewelry for W.M. Root & Bros. of Pittsfield, Massachusetts.  That he gave credits for over $2,500 and collected all but 61 cents of it illustrates his careful attention to business.
Alvah came to Michigan with his father, Hiram Belding.  He helped to clear the land and improve the farm, performing the most arduous labors.  In plowing up the new land he used six yoke of oxen, sometimes holding the plow, other times driving, which, as is well known, required both skill and patience to keep them all working.  He also helped to build the dam which furnished water power for the Patterson Saw Mill, receiving in compensation 87 cents per day and dinner.  He assisted his father in building the farm house and barn for their new homestead.  In winter, he attended school.  His father claimed the wages of all his sons until they were twenty-one.  Alvah was given a choice:  attending the last three months of school or having what he could earn in that time.  As he had just started selling silk, he decided to take the latter and found himself in possession of $100 when he came of age.  He tersely remarked, "By economy and close attention to business, I have managed to keep that good."
In August of 1857 he joined with his brother, Hiram, Jr., in selling silk throughout Michigan and adjoining states.  After the firm of Belding Brothers & Company was organized in Chicago in 1863, he traveled on the road for several years.  In 1868, when E.K. Rose, their supplier of silk, failed, Alvah went to Rockville to look after the manufacturing interests.  He was elected secretary when the company was incorporated, and then vice-president upon the death of his brother Hiram in 1890.
He was in charge of the entire manufacturing part of Belding Brothers & Company's business and contributed his full share to its success by his splendid executive ability, rigid economy, and his capacity for leadership.  On assuming charge of the factory, he adopted immediately a rule to keep an account of the work in production.  He required this type of report be sent to him every month from all the numerous factories of the company, comparing results of like department in each mill, thereby encouraging the best performance from each.  Under his able management, the number of employees increased from twenty-five to several thousand.
As evidence of the resourcefulness of the four brothers, they deemed it advisable to keep their original name when changing the company from a partnership to a corporation.  This necessitated a special charter and to accomplish this, Alvah Belding became a candidate for the Connecticut legislature.  He was elected by the largest majority ever given a representative from his district at that time, lacking only 57 of the entire vote cast by both parties.  Through his tact and ability, he was able to secure a special charter under which the company was incorporated. 
Alvah N. Belding married Lizzie S. Merrick of Shelburne Falls, Massachusetts on January 6, 1870.  They had two children: a daughter, Florence, who became the wife of H.W. Nuckols, President of the Columbia Motor Car Co., and a son, Fredrick N., who after graduating Princeton University, entered the factory and worked his way through every department for small compensation, observing the same rules as other employees, until he became thoroughly proficient in the manufacturing, after which he engaged in the office work.  Florence Belding Nuckols, upon her death, left a sizable trust fund for the benefit of the library in memory of her father.  The Library continues to receive dividends of $30,000 or more annually from this trust.
Mr. Belding lived continuously since 1869 in Rockville, Connecticut, until his death on the 18th of December, 1925.  He and Mrs. Belding, who preceded him in death by nine years, are buried in the family cemetery plot in Rockville.
Mr. Belding had always taken an active interest in all civic and public affairs.  He had that warm, sympathetic nature which wins and holds confidence, and a very high sense of justice which frequently enabled him to harmonize conflicting interests within the Company.